This is a SUPER in-depth review of GroovePages .
The landing page, funnel and website builder app within GrooveFunnels
I bought GroovePages and GrooveFunnels lifetime deal.
So I can give you my no-fluff honest opinion of the software FULL capabilities.
In this up-to-date review, I'll break down:
What GroovePages does
How it compares to ClickFunnels
Key features in the pro version
What I like about it
What I don't like about it
What the heck is GrooveFunnels
Pricing and payment options
Whether or not I recommend it
And a lot more
Bookmark this post as it goes into the nitty-gritty.
If you're here for Groovefunnels, then check out my Groovefunnels Review
Note: GroovePages Pro Lifetime is NO LONGER be available. It's only available with the GrooveFunnels Lifetime plan.
Ok, let's dive right in.
What Is GroovePages?
In a nutshell, GroovePages is a new drag-and-drop page builder that lets you create:
Stunning landing pages
High converting sales funnels, and
Full-fledged navigable websites
If you like to see a demo of GroovePages and what's inside the dashboard.
Then check out this GroovePages review and tutorial video below (20mins):
But first… the question on everyone's mind.
Is GroovePages Free?
YEP! You can get a Free GroovePages and Groovefunnels lifetime account here.
It's the lite version of GroovePages.
But with all the core features you need to build landing pages and funnels.
You can build up to:
3 funnels

OR
3 website projects
For free and for the rest of your life.
Did I mention it's a 3 in 1 Freebie?
Your Free GroovePages comes with a Free GrooveAffiliate and GrooveSell account.
And vice versa.
I wrote a review of GrooveSell here.
GroovePages Bonus
As a thankyou for signing up to your free GroovePages account through my referral link.
I've included additional bonuses with your free account.
BONUS 1 – GROOVEFUNNELS TRAINING COURSE
I've just finished recording my GrooveFunnels Quick-Start training course for new GrooveFunnel members.
These videos get straight to the point and cover the core parts of GroovePages, GrooveSell, and GrooveAffiliate.
So that you don't have to sit through long training videos (trust me, they're long) and can get started quickly!
Here's a sneak peak inside the quick-start training members area (no audio):
BONUS 2 – SALES FUNNEL PLANNING WORKBOOK
The quick-start training will help you with technicals…
BUT you will need a sales funnels strategy in place to build your own email list.
Use my sales funnel planning workbook to build simple yet seriously effective sales funnels that convert leads into sales – in 5 simple steps!
I've literally coached people for $1k for a digital strategy.
You get this workbook that I give to my clients for free with checklists and examples to guide you: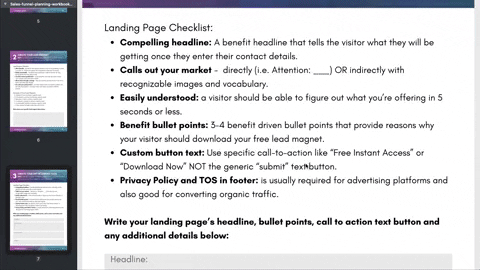 BONUS 3 – HIGH CONVERTING OPT-IN LANDING PAGE & THANKYOU TEMPLATES
Not a website designer?
CLONE my high converting GroovePages opt-in template.
These templates may look simple but they CONVERT.
All you need to do is make a few small changes to these templates and use them to build your email list and customers on auto-pilot.
Sign up to your free account and get your bonuses here
P.S. Once you sign up to your free GrooveFunnels account, there are even more valuable bonuses when you upgrade to GrooveFunnels lifetime!
Now If you've used ClickFunnels or Kartra…
Then you would know that creating landing pages and sales funnels drive conversions and sales.
I really like ClickFunnels and love what Russell Brunson teaches.
But ClickFunnels is really expensive.
If you're wondering…
Is GroovePages better than ClickFunnels?
Straight up the answer is no (for now but it will be in October)
Because GroovePages is in still beta and needs to iron out some bugs.
My initial thought when I logged into the dashboard on April 8th was:
"Man… these guys need to do a lot of work to catch up to ClickFunnels"
Then bam!
One month later and so many of the glitches I had experienced disappeared.
So I looked at their apps development roadmap.
and software updates…
and now…
I'm convinced GroovePages & GrooveFunnels suite has the potential to be better than ClickFunnels.
And become a very powerful and affordable platform for all business owners and digital marketers.
Which is why I invested in the GrooveFunnels lifetime deal (includes GroovePages PRO and 16+apps).
The guys at Groove Digital says their lifetime deal is ending soon.
Although this date is subject to change due to COVID-19 and could end later this year.
Here's another reason why I'm confident GroovePages will be better.
The man behind GroovePages and GrooveFunnels is also the creator of Kartra.
Mike Filsaime & GroovePages
Mike Filsaime, is the creator of multi-million dollar software companies like Kartra, Webinarjam, and Everwebinar.
I bought the WebinarJam lifetime deal back in 2013 and glad I did.
It saved a fortune in GoToWebinar fees over the years.
Mike pioneered 'viral marketing' with his launch of Butterfly Marketing in 2006.
He was implementing 'order bumps' on old school HTML web pages before ClickFunnels was invented.
The man is legit and no novice.
He's now the co-founder of Groove Digital and their suite of GrooveFunnel apps including:
So whilst GroovePages may seem like the new kid on the block.
It's founded by veterans who have decades of experience in building successful digital marketing software.
So, I'm willing to accept the current bugs and missing features in GroovePages for now.
Because it's exactly how ClickFunnels was when they got started.
GroovePages 2.0
Speaking of beta, Groovepages has come along way since version 1.
GroovePages 2.0 has major software updates and is now a fully-functional page and sales funnel builder.
They've added integrations to email marketing software providers with more integrations coming soon.
You can now build pages in a snap from their gallery of pre-designed full-page templates.
As a free GroovePages member you get limited templates while pro members get access to their entire gallery of templates.
Bug fixes, new features, and functionalities are applied on a daily basis.
Key GroovePages Features (Pro Version)
Here are the key features in GroovePages pro version that makes it unique.
How it compares to ClickFunnels.
Plus what I like and don't like about it.
1. Unlimited Web Pages & Sales Funnels
That's unlimited web pages and sales funnel for LIFE.
ClickFunnel charges $297 per month for unlimited web pages and sales funnels.
That's $3,564 in yearly fees with Clickfunnels.
You could reinvest that money back into your business or run ads to get traffic instead.
Unlimited GroovePages is a one-time payment of $1,397 for LIFE.
Once GroovePages is out of beta, pricing starts from $99 per month.
2. Free Hosting & Bandwidth
Hosting all your landing pages, websites, and sales funnel on GroovePages is free.
Again, that's free lifetime hosting.
For WordPress hosting, I pay Siteground $179 per year.
Going forward, I will be hosting my new website domains on GroovePages.
Can you imagine how much this will save you in a lifetime? Priceless.
3. Unlimited Custom Domains
When you host and publish your pages on GroovePages, you're allocated a subdomain.
Example: username.groovepages.com
If you like to use your own domain URL instead of their subdomain, you can do that too.
So: username.groovepages.com —> yourdomainname.com
This means you can brand every landing page and website using your own domain name URL.
Lifetime GroovePages has unlimited custom domains compared to ClickFunnels' limit of 9 custom domains.
4. Built on New Technology
GroovePage's technology allows your pages to load really fast.
Here's why:
Unlike ClickFunnels, GroovePages publishes your .html page to the web.
Which means your site actually exists on the web.
A site like ClickFunnels has to render your site every time the page loads.
That means you need to worry about Uptime as well as slow load times.
This can affect your SEO and ads costs if you're running ads.
Your pages are hosted with the best servers in the world (Amazon servers, not GroovePages)
"We load faster or as fast as any page on the internet"

Groove Digital
I ran GroovePages' website through Pingdom to test their page speed:
Not too shabby at 1.13 seconds page load time.
5. Build Entire Websites With Full Navigation + Funnel Pages
One thing ClickFunnels does well is Funnels.
But it's not built to handle full-fledged websites with navigation menus PLUS funnel pages the way GroovePages can.
Unlike other page builders, you have to sticky tape together your websites and funnel pages.
With GroovePages and GrooveFunnels, you don't have to.
You can build your entire website and funnel pages in one project and dashboard.
GroovePages website editor is much easier and intuitive to use.
Have a look at the image below.
To add a new page to your website, click the + button.
To rearrange the order of your website menu, drag the tabs up or down.
Click the + button again to add a funnel page like an 'Upsell' and 'Thank You' page.
To hide funnel pages from your website menu, drag them under the 'Hidden Pages" section
All these pages are now interlinked automatically unlike ClickFunnels
It's pretty cool.
Your website, landing pages, and entire sales funnel are on ONE dashboard.
What I don't like about their editor – some elements for formatting can be buggy (although they seem to have fixed it now).
From there you can drag and drop in "designed blocks" or "wireframes".
6. Pre-Designed Blocks
If you're not a web designer, use the premium designed blocks.
Think of "designed blocks" as pre-designed containers and rows with placeholder images, text, or elements.
Currently, you can drag-n-drop the following designed blocks on to your canvas:
Alert bars
Call to action
Content
Covers
Features
Footers
Forms
Navigation bars
Testimonials
Title
Let's say you wanted an alert bar on the top of your website to announce a sale.
Drag one of the pre-designed "Alert bar" blocks onto the canvas and edit the text like so.
7. Wireframe Blocks
Wireframes help plan the layout of your website.
If you're a planner, wireframes are a handy tool for website visualization.
It maps out where menus, buttons, content, and images should be placed first.
This is useful if you're a web designer or want to sell web design services.
Use wireframe blocks in GroovePages as a tool to walk your clients through a website structure.
Without them getting distracted by colors and images.
Once your client has approved this wireframe, go back into the editor to add color schemes, fonts, etc
ClickFunnels definitely does not have this.
8. Mobile-First Indexing
Groovepages was built for mobile-first indexing.
I really like this feature because it's a major SEO ranking factor.
Google has stated that from July 2019, all new sites will be indexed using Google's mobile first-indexing.
This means that Google will now use the mobile version of your website to index and rank your pages.
GroovePages is the FIRST and only page builder where you can build websites and funnel pages with mobile-first indexing.
9. Control Website Appearance Across 5 Devices
GroovePages allows you to control your web pages and website's appearance across:
Desktop
Laptop
iPad
Tablet, and
Mobile screens.
This is heaven if you're a web designer (or perfectionist).
On ClickFunnels, you can only control 2 devices – desktop and mobile.
1. Desktop view
2. Laptop view
3. iPad view
4. Tablet view
5. Mobile view
When all devices are highlighted in pink, designs are instantly updated across 5 devices.
Or control the design on specific devices by highlighting that device icon.
10. Email Marketing Integration
GroovePages plan to integrate over 20 email marketing platforms by late 2020.
Currently, you can integrate the following email marketing providers:
ActiveCampaign
Aweber
Campaign Monitor
WebForm
GetResponse
Mailchimp
Mautic
11. Popups
Popups are available on Groovepages so that a light box pops up when people click on a button.
You can also configure the popup to appear when someone lands or exits the page by clicking under "Type"
Standard = appears only when they click on a button.
Entry = appears when someone lands on the page.
Exit = appears when someone leaves the page.
My only gripe about the popup is that I use ActiveCampaign and can't add tags to create email automation work flows.
So you would need to create specific lists inside your email marketing provider instead of creating tags for automation.
Hopefully they have deeper integrations with email providers who have automation workflows later on.
However since I bought GrooveFunnels lifetime, I will be moving my email marketing over to GrooveMail (which is available this year).
There are workarounds to this by embedding email form codes instead by using something like thrive leads.
12. Embed Videos
Embed Vimeo and Youtube videos by dragging in video 'element' into the page editor.
Click on the video player and enter your Vimeo or Youtube video ID.
You can also control the aspect ratio to adjust for size.
13. Google Maps
Embed Google maps and directions by dragging in Google maps 'element' into the page editor.
Click on the default map and and enter a location name or address as you do on Google maps.
14. Countdown Timers
Countdown timers are great for showing urgency or when an offer is set to expire.
Embed a countdown timer by dragging in countdown 'element' into the page editor.
You can specify the action you like when the timer reaches zero:
Do nothing
Redirect to another Groovepages' page
Go to an external URL (like an affiliate link)
Or add another 24hour to loop the countdown.
15. Code Embed
Embed codes by dragging in the code embed 'element' into the page editor.
The only part I don't like about this is that you need to click on the little cogwheel for the code source box to open.
Paste your code and remember to press save!
16. Progress Bars
To assist a call to action, you might want to add a progress bar on top of an opt-in form.
In the example below, I've opened my popup and then dragged the progress bar 'element' into the page editor.
From here, click on the progress bar element inside the editor and the configure tab pops up on your right.
Type the text you want to appear in the progress bar, for example, "progress 50%".
17. Embed Checkout Form
You can embed your checkout forms on your checkout page inside Groovepages .
You will need to create your product funnel inside of GrooveSell first to get the checkout embed code.
Groove Academy has the tutorials to do this since it's a multi-step process.
But if you refer to the image below, I've provided instructions on how to do this
18. Upsells & Downsells
Unlike ClickFunnels, you create your Upsell & DownSell pages inside GroovePages first.
Then add the page URLs you want as an upsell or downsell in GrooveSell.
I like this method more.
You work on designing your pages in GroovePages then head over to GrooveSell to connect the sales component.
GrooveSell is free for a limited time, so if you haven't signed up already – register here.
19. Order Bumps
Same deal here, you configure your order bumps inside of GrooveSell.
No need to create a product page for an order bump.
20. Webinar Integration
Right now you can integrate 1 webinar platform – GoToWebinar.
Which I'm not a fan of but I'm looking forward to seeing GrooveWebinar integration.
By late 2020, you'll be able to run live webinars and automated through GrooveWebinars.
Mike Filsaime has said in his webinar that he plans to make GrooveWebinar better than WebinarJam and EverWebinar.
We'll have to wait until the end of the year to see if it lives up to it's promise.
21. Viral Marketing Integration
The Groove Digital team is planning to integrate Butterfly Marketing which is a series of viral marketing strategies.
Don't know what the heck Butterfly Marketing is?
Well back in 2006, Mike Filsaime launched a course called Butterfly Marketing:
It was a huge hit and a game-changer to the internet marketing industry.
The theory is that when a butterfly flaps its wings, it causes a tiny change in the state of the atmosphere.
Which indirectly causes a tidal wave of events and leads to virality.
A good example of this butterfly effect is Airbnb.
Airbnb created a viral loop where they incentivized customers to refer as many people as possible.
By offering a reward for each and every new customer that signs up (via referral).
This strategy supercharged their growth.
Right now GroovePages has an app integration for PerkZilla.
PerkZilla is a viral marketing campaign builder to help build brand awareness and grow your audience.
22. SEO Friendly
I love running paid traffic but LOVE free traffic even more.
Here are some of the On-page optimisation you can perform on GroovePages:
Site name – Include your website name to appear on Google search result

Favicon – add an icon to represent your website on Google search results
Page title – add a page title with your target keyword
Page URL – enter a page URL with your target keyword
Meta keywords – add target keywords and related keywords to your page
Meta description – add the description of your page with target keyword and related keywords
Open Graph – control the title and description of your page for social media share on platforms Facebook, Twiter, etc
H1, H2, H3 headings are available by dragging in headings text element.
Images optimization – "alt tags" and "alt descriptions," are available when you attach images to pages.
What I don't like – unlike WordPress, you can add schema or rich snippets via a plugin to occupy more Google real estate.
You would have to manually add a JSON-LD structured data snippet to your pages.
23. Google Analytics & Tracking
Google Analytics, ad tracking, and tag management is a MUST for me.
You need Google Analytics to know where your visitors came from and how they interacted on your GroovePages.
I manage my Facebook ad pixel, ad tracking, and analytics tracking on Google Tag Manager.
GroovePages has a place to add Google Analytics, Google Tag Manager, and other tracking codes.
24. Importing Funnels
Import existing funnels that are currently hosted on your website.
Paste the URL of the page you want to import in Groovepages (as long as you can improve that you're the domain owner)
The page editor will carry over the images and exact text.
It will also import hyperlinks, buttons, colors
Some things like countdown timers will have to be reconfigured.
25. Free SSL Certificate
The primary reason why you would need an SSL certificate is to keep sensitive information encrypted.
Google has gone on record saying that SSL certification is a ranking factor.
So having HTTPs on your domain is necessary for all websites (not just e-Commerce stores).
Like ClickFunnels, GroovePages integrates with your free Cloudflare account to give you your free SSL certificate.
These would be the key features I would look for in a page and sales funnel builder.
There are more features that are being added on monthly basis.
GroovePages Pricing
Prior to September, GroovePages PRO was available for a low ONE-TIME price.
That lifetime deal price WAS $497.
It's no longer available.
GroovePages PRO is now part of the GrooveFunnels Lifetime Plan.
Before you upgrade to GrooveFunnel check out my GrooveFunnels review post first.
I break down all the apps you get within GrooveFunnels lifetime and bonuses here.
GroovePages Review & Takeaways
GroovePages and GrooveFunnels may be the platform you end up building your next funnel with.
Three months ago I would have said no to GroovePages.
That it had no way in competing with ClickFunnels…
Now it's a definite YES.
Reasons for no previously:
There are still some bugs that need to be ironed out
Not all features and integrations are available yet
You want to transfer all your funnels from ClickFunnels and have them working ASAP.
If this is you, sign up to the Free GroovePages account here.
This gives you the chance to trial GroovePages for free and upgrade later.
If you're a ClickFunnels user, download the HTML version of your funnels to import later.
GroovePages plus the 16+ apps within Groovefunnels, makes it a contender of ClickFunnels.
So if you want to be part of revolutionary software that has great potential to be the number #1 sales and marketing funnel platform…
Then it's worth giving GroovePages a try, you've got nothing to lose with your free Groovefunnels account.
.
.
.
---
GroovePages Review
GroovePages has the potential to be better than ClickFunnels. It's still in beta and has some bugs to be ironed out. Looking at their development roadmap, they have some features that will surpass Clickfunnels. The one-time low price of GroovePages lifetime makes it an irresistible offer.
Operating System: Online SaaS
Application Category: Landing Page Builder, Sales Funnel Software, Marketing Funnel Builder
> Home