The below Groovefunnels review video was created back in August 2020.
The platform has undergone so many updates since then.
Skip the video and read my updated review of GrooveFunnels (now called Groove) below.
What is GrooveFunnels?
Groovefunnels is an all in one marketing and sales platform to help you sell your products and services online.
If you heard of Groovepages and GrooveSell…
Then think of GrooveFunnels as mom and dad….
and GroovePagea and GrooveSell as their kids.
"GrooveFunnels" is the parent brand for ALL Groove Digital's apps.
So: GroovePages is just ONE app in the GrooveFunnels family.
There are 22+ apps in the GrooveFunnels family for now…
Basically, you can run your entire online business using all the apps in the lifetime plan.
There's a lot to go through but first, let me tell you about my experience of GrooveFunnels so far.
My Experience of GrooveFunnels So Far…
I've been using GrooveFunnels for 8 months now and testing it on my YouTube channel.
At times, I get annoyed with the user interface especially when a new app is released or when they are updating the platform.
Depending on which Groove app is updated, it freezes or buggy for a week and then it's fine.
This is to be expected with a beta software and it looks like they won't be out of beta until late 2021.
Groovefunnels relies on existing members to test drive, report on bugs and request for new features.
It's the reason why their offering lifetime access for a one-time low price.
Unfortunately, you're not getting a lifetime discount for nothing.
You're a backer and tester in a new software.
GrooveSell payment integrations work like PayPal, Stripe, GroovePay however analytics are limited.
GrooveMail is working fine however it does not have an import list feature so it's great if you're just start out with list building.
If that's you, check out my free list building and sales funnel workbook for the short cut to list building.
So before you invest in GrooveFunnels – realize that they are in beta.
It's a patience and long term game as they iron out bugs and update the platform.
I bought Groovefunnels fully aware of this.
Hence I was prepared with backup email marketing and membership software to use in the interim.
So I usually don't touch a new Groove app when it's released until one month has passed.
Yes that means paying additional fees while waiting for Groove is out of beta but I see it more as a long term investment.
The good news is that they are constantly updating the platform because I'm always testing it.
Most of the glitches and bugs I mentioned above may have been fixed by the time you read this post.
Available apps like GroovePages, GrooveSell, GrooveAffiliate, GrooveMember, GrooveMail and GrooveKart are fully functional.
However you will have to wait for advanced features in each of the above apps.
For example, GrooveMail allows you to add email leads, create tags, sequences and automation etc.
Importing your existing email contacts from another email marketing provider is not available until 31st of January 2021.
I wish specific features and more in-depth were available NOW.
I guess the main thing I don't like about GrooveFunnels is their training videos and technical support.
Some are really long, all over the place and could be broken down into 10min video tutorials.
Instead of 1.5 hours Facebook live training videos.
If you're busy working a 9 to 5 job or running your online business…
The last thing you want to do is watch a long training video.
That's why I added my Quick-start GrooveFunnels training course as a BONUS for free Groovefunnels members.
My super power is simplicity, clarity and bite-size training that gets straight to the point.
So that you're up and running with GroovePages, GrooveSell and GrooveAffiliate within a day.
Here's a peak inside the GrooveFunnels quick-start training course (no sound):
If you like access to these quick-start training, create your free GrooveFunnels account through this link here.
And you'll automatically be sent the details to login to the training area.
Other than that, Groove represents incredible VALUE and a long term investment tool.
Especially if you have an online business where you're currently paying $99+ per month in marketing tools.
If you're thinking of starting an online business, you will eventually need the apps and tools offerred in the GrooveFunnels lifetime plan.
Yes the above link is my affiliate link but I promise you that you will find value in my free step-by-step training I provide as bonuses.
When ClickFunnels first launched, they also had bugs and a lifetime price.
I ignored it back then after testing the platform because I found it glitchy back then.
I didn't like the user interface as well so did not take up their lifetime offer at that time.
I KNOW better now.
As the years passed, I required more funnels, more marketing tools and eventually ended up paying ClickFunnels $297 per month.
So long story short, you're saving $16,000+ in yearly fees (FOR LIFE).
And you're investing in software developed from OG marketers (Mike Filsaime and John Cornetta)
Veteran online marketers who have been on the scene for the past 20 years.
As a backer of a new software, just go into this with some patience.
Be mentally prepared if you're look for an all-in-one platform that does everything – that will happen but not yet.
In the mean time, I suggest you grab a free Groove lifetime account and create up to 3 funnels or websites with unlimited hosting for free.
Test drive it on a hobby project, not a big project and try to break it.
GrooveFunnels Lifetime Plan
The Groovefunnels Lifetime offers you access to all the apps in their Platinum plan (for Life).
The Platinum Plan INCLUDES:
1. GroovePages
This is the pro and full version of GroovePages which is the landing page, website, and funnel builder.
Full gallery of pre-designed templates with new templates added daily
Premium pre-designed blocks and wireframe blocks
Unlimited funnels and websites
Unlimited hosting and bandwidth
All of the features explained in this GroovePages review post
When all apps and integrations are in place, it will surpass ClickFunnels
Available now.
2. GrooveSell
This is the pro and full version of GrooveSell which lets you sell digital products, online courses, memberships, and physical products (basically ANY digital product you want to sell)
Create complete product sales funnel with custom shopping carts, checkout pages, upsells, downsells, order bumps
Create an affiliate program for all the products you plan to sell on GrooveSell
In-depth reporting of sales, affiliate sales, and analytics
All the features explained in GrooveSell Review
Available now.
3. GrooveAffiliate
This is the pro and full version of GrooveAffiliate
Robust affiliate system with in-depth affiliate reporting and promotional tools
Set specific affiliate commission rates for super-affiliates
Custom tracking links for promotions and campaigns.
Access to their future Marketplace like ClickBank and JV Zoo so that you can recruit affiliates and get more exposure for your products.
GrooveFunnels has its own affiliate program that pays a high affiliate commission rate.
As a free GrooveFunnels member, you'll earn 20% recurring commission.
As a paid and upgraded Groovefunnels lifetime member, you'll earn 40% recurring commission.
Available now.
4. GrooveMail
This is their full-featured email marketing and CRM system
Similar to Active Campaign and Clickfunnel's Actionetics email marketing platform.
GrooveMail lets you turn on a host of automations based on your recipients' behaviors. For example, automatically send a follow-up message if they haven't opened the previous email
Or assign a tag if they click on the link, or unsubscribe them if they haven't opened any email in the last 30 days
Send automated follow-up emails, broadcasts, and do behavioral-based email marketing.
Split-test your email contents and subject lines, track conversions, and switch to whichever version converts the best — automagically.
Define unlimited rules to trigger a sequence for any particular lead. For example: initiate this sequence when the lead fills in an opt-in form, or when the lead receives a tag, or buys a product, or cancels a payment subscription, or gains access to a membership site, etc.
Queue up your email and SMS communications, and let the system pace them out based on your pre-defined parameters
Subscribe, unsubscribe, and cross-move leads from different lists, sequences or tags as they progress through the automated sequence.
Import up to 25,000 email contacts which means you can send 750,000 emails daily
I'm currently with ActiveCampaign, 25,000 email contacts would cost $799 per month!
Integrated with all Groove apps and the GrooveFunnels system.
Available now with new features coming.
5. GrooveMember
This is the built-in membership platform to sell your courses or membership subscriptions
Create multiple membership tiers, each with different content, price points, and logins
Upload and host your pdf files on GrooveMember
Embed videos from Youtube, Vimeo or host your video on GrooveViddeo
Deliver full courses with categories and subcategories.
Drip content to your members on a time-release schedule.
Subscribe or unsubscribe users to different membership tiers on Groovemail automations
It integrates with GrooveSell, GrooveAffiliate
This means you get in-depth analytics and reporting of what's driving sales
Available now.
6. GrooveVideo
Like your own built-in Wistia and Vimeo to host videos
Get all the Analytics and Data you need to know where people are most or least engaged in your video.
Host private videos for online courses, membership content, or video sales letters
Get advanced analytics like watch time, scrubbing, drop-offs, and split-test video variations
Upload your marketing and product content videos to GrooveVideo and embed them anywhere
Embed vides on GroovePages, membership portals, your WordPress blogs, literally anyplace
Add powerful calls to action at any point in the video like Add-to-Cart buttons.
Add social liking or sharing on Facebook to unlock viewing or continue watching video
Trigger actions based on viewer behaviors, such as viewing all or part of a video.
Automatically assign tags, send follow up messages, subscribe to lists, add to funnels,
Configure video player control and custom thumbnails
Integrates with the entire GrooveFunnels system
Available now.
7. GroovePages for Shopify
GroovePages for Shopify is an app that's going to sell the Shopify marketplace for $49 per month.
It's for people who use Shopify and want to build dedicated landing pages, checkout pages, and sales funnels within their Shopify store.
Many Shopify store owners are currently using third-party apps and paying up to $99 to create dedicated funnel pages to boost sales and conversions.
Coming late 2020.
8. GrooveKart
GrooveKart is an e-Commerce platform that competes directly with Shopify.
It is a standalone product and not part of the GrooveFunnels suite of apps.
With the Platinum GrooveFunnels Lifetime offer, you receive UNLIMITED GrooveKart stores
Create an online store with:

thousands of products
multiple product variants
sales funnels
order bumps
retarget existing buyers
add social proof
count-down timers etc.

Sell physical products or create drop shipping, and print on demand stores.
Comes with 20 built-in apps whereas other platforms require you to purchase separately as add-ons
Currently sells for $99 per month.
Instant access with a NEW GrooveKart updated on September 2020.
9. GrooveWebinars Live
Similar to WebinarJam and GotoWebinar but better
Viewing options: Show your screen, or camera, or both!
Handle multiple presenters
Video or audio Q&A for viewers
Full pre-design webinar landing page templates
Secure rooms so no one else can access it without registering.
Integrates with GrooveMail for webinar reminders and the entire GrooveFunnels system
Coming this December 2020.
10. GrooveWebinars Automated
Similar to StealthWebinar or EverWebinar
Schedule automated webinars on a recurring basis or specific dates
Turn your live webinar into an evergreen webinar with ONE click
Get stats on chats, watch time and drop-offs
Full pre-design webinar landing page templates
Integrates with GrooveMail for webinar reminders and the entire GrooveFunnels system

Coming this December 2020.
11. GrooveWebinars Streaming
Similar to Streamyard's live streaming studio in your browser.
Stream to multiple platforms simultaneously, works with Facebook, YouTube and LinkedIn
Show viewer comments on screen, answer their questions and connect to your audience
Add call to actions within your broadcast
Brand your live stream with your own logo and brand colors
No downloads required, stream right in your browser

Coming this December 2020.
12. GrooveBlog
Similar to WordPress's CMS and blogging platform
Uses some of the elements of GroovePages for blog post design
It won't have a huge collection of plugins like WordPress yet so if you have a big focus on content marketing, I suggest using WordPress in combination with GrooveFunnels (which is what I'm doing)
Publish search engine optimized content for organic rankings.
Ideal for businesses who run paid ads but want to do light blogging.
Coming this October 2020.
13. GrooveDesk
This is the built-in helpdesk like Zendesk with a robust ticketing system.
Keep your tickets organized by department (technical support, billing support, sales support, etc.) so your dedicated agents can respond accordingly.
Collaborate with other agents by allowing adding an agent to the conversation, pass private messages from one agent to another, transfer a ticket to another department or agent altogether, etc.
GrooveDesk is integrated into GrooveSell so you can access a customer's full profile, transaction history, and billing actions (refunds, cancellations, discount coupons, etc.) right from within the helpdesk ticket.
Embed your frequently-used replies with a click from your mouse inside of GrooveDesk.
GrooveDesk stores every conversation in the cloud so you can retrieve and download them at any time.
Seamless email integration with GrooveMail
Coming this December 2020.
14. GrooveCalendar
GrooveCalendars allows you to schedule meetings and sell consultations
Real-time booking management so, if a customer books a particular time slot, it will block it for all other user
Set a series of events or recurring appointments with email and text reminders.
If you cater to international clients, GrooveCalendar will geo-locate them and convert to their local time zone
If you are a consultant offering one-to-one sessions with your customers, then add yourself as the only host
If you're running a language school or yoga studio with a dozen teachers and classes – you can layout an entire class schedule on your public calendar
Create a calendar for every business model – consultant model, recurring class model, gym subscription model, and live event model
GrooveCalendar sends instant updates to your Google Calendar, and also feeds from it, it's always perfectly in sync
Get reminder notifications for registration confirmation, pre and post-event notifications, cancellations and rescheduling
Block out specific dates that you don't want to work because who wants to work on Christmas day or new years eve!
Integrates with GrooveMail so you can set up automated follow-up email sequences
Coming this December 2020.
15 – 16. GrooveSurvey & GrooveQuiz
Create engaging surveys with multiple choice options to identify your next product, service, or content topic to focus on
Create fun interactive quizzes for lead generation or customer acquisition.
All responses become part of your lead record and integrated with GrooveMail for email followup
Build your email list or customer database with surveys and quizzes.

Coming this December 2020.
17. GrooveProof
Similar to Provely's social proof platform.
This allows you to create customizable pop-up notifications on your landing and sales pages.
Use these proof pop-ups to encouraging visitors to follow the actions of your those who have gone before them.
Customize heading text, title colors and background colors.
Display visitor names, location and Gravatar icons in your pop-up.
Social proof pop-ups can increase conversion rates by 250%.

Available now

.
18. Chatmatic
The newest addition to the Groovefunnels platform.
Up to 250 messenger subscribers
Unlimited Messenger Pages
Access to Agency Accelerator
Pre-built Messenger Templates
Build your messenger subscriber list
Available now
That's everything you will get with the Platinum GrooveFunnels Lifetime Offer.
You basically own the GrooveFunnels platform and become a backer of the project.
All 18app and future integrations are included in the lifetime plan.
Now let's talk pricing and payment options.
GrooveFunnels Lifetime Pricing & Payment Options (Platinum)
There are 4 payment options for Platinum GrooveFunnels Lifetime:
$0 Today, then 4 x monthly payments of $497 starting in 14 days.
Or 6 x monthly payments of $388 starting today.
Or 12 x monthly payments of $248 starting today.
Or just pay in full at $1,397 for Lifetime access and save up to 35%
On the upgrade page, scroll all the way down and you will see the payment options.
GrooveFunnels Pricing Comparison
Here's a pricing comparison table of GrooveFunnels with similar software providers and the equivalent GrooveFunnel apps.
The abelow figures are yearly savings of comparable software subscriptions.
When you upgrade to GrooveFunnels lifetime – you will be saving $16,109 in yearly fees.
I usually stay away from offers that include so many apps.
They're usually inferior versions of leading competitors.
The key difference in here is Mike Filsaime's reputation of developing quality software.
Plus these are the apps and tools that you will eventually need to run your online business.
That's if you're serious about running an online business.
If it's just a side hobby, then the Free Groovefunnels account may be all you need.
Why I Upgraded To GrooveFunnels Lifetime
It's should be pretty obvious by now on why I upgraded.
To save on monthly and yearly subscriptions of various marketing software and tools.
Basically I was looking for an all-in-one platform that was less than $500 per month.
Because that's how much I was paying to build funnels, accept payments, run email marketing campaigns etc.
I nearly made the jump over to Kartra until I stumbled upon GrooveFunnels.
And was pleasantly surprise to find that the ex co-founder of Kartra…
Mike Filsaime is now the CEO and co-founder of GrooveFunnels.
I covered Mike Filsaime's bio previously in my GroovePages post here.
But if you don't know who Mike is, the guy has been in software development since 2006.
He's also a brilliant marketer who pioneered viral marketing.
Here's a screenshot of my GrooveFunnels Platinum Lifetime purchase receipt.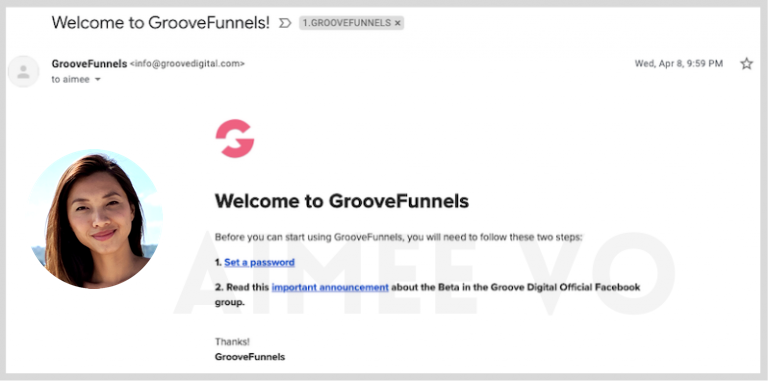 When Does GrooveFunnels Lifetime Expire?
I received an email communication last week that the official launch is on the 6th of October….
Having spoken to the VPs at GrooveFunnels….
I'm pretty certain that they will be switching to monthly pricing by December 2020.
When they do switch to monthly subscription, you will have the option between choosing the Base, Silver, Gold and Platinum plans:
So if you want to save yourself a lifetime of fees and bypass the above monthly pricing plan then…
Upgrade Directly to the Platinum GrooveFunnels Lifetime offer HERE before the price increases.
GrooveFunnels Future Apps
It can be pretty confusing with all these "Groove" app names.
So I got my hands on the secret backdoor GrooveFunnels Upgrade video for you.
Mike Filsaime covers what each app does, pricing plans and the future of GrooveFunnels below.
Launch Bonuses From Groove Digital
To celebrate their official launch, the team at Groove Digital are offering the following Bonus Boosters (free for life as well)
Youzign — it's like Canva for marketers
22apps — build your own custom app
Slingly — sell and fulfill thousands of professional print on demand products with only a few clicks
ReviewTrust — easily display testimonials and reviews on your website, blog, or storefront automatically.
Chatmatic — fully automate the conversational process inside Messenger.
FTC Guardian — protect your online business with website legal documents and 1-hour online compliance training
Bonus #1 – Best of Groove-a-thon Recordings
The team at Groove Digital are editing the best of 300+ hours from Groove-A-Thon training so it's easier for you to consume, take action, and grow your business.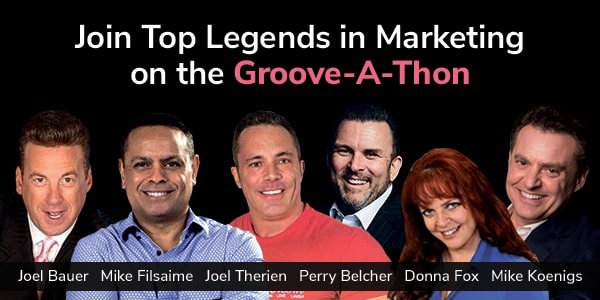 Once available, you'll get access to:
Featured guest presentations
Transcripts
Cheat Sheets
Checklists
And more.
Value: Recordings of a 3-day event usually cost $497 to $997.
Let's assume it's 10-hour days, so that's only 30 hours of content.
This is 10x that! You've never seen an information product this huge before.
Bonus #2: Save More Designs + Get MoreTemplates For Youzign
Save up to 30 designs (instead of 3) in your Youzign dashboard
1,000+ templates
$79/yr Value
Bonus #3: Get More Templates + Training for Chatmatic
Agency Accelerator – 35 different modules to help you use Messenger to deliver leads for other businesses.
1 Year Subscription to Template Club – Get 2 new templates every month for 12 months.
$2,661 Value
Bonus #4: Double your ReviewTrust
Two Campaigns
50 ReviewTrust reviews
$79/yr Value
You're already saving $16,100+ in yearly fees, Groove Digital's 4 Bonus Boosters but let's sweeten the deal.
Aimee's Bonuses For GrooveFunnels Lifetime
As a thank you for upgrading to GrooveFunnels lifetime and committing yourself to building a business that matters, I've assembled a series of valuable BONUSES to help you maximize your entrepreneurial journey.

Sure, I could have offered you some BS special reports or free video seminars like most 'online marketers'…
But I'd rather give you something practical that will help you move your business forward and get you on the path to making immediate income.

BONUS 1 – GOOGLE ADS AFFILIATE MARKETING BOOTCAMP COURSE
I want you to recoup your Groovefunnels cost as fast as possible so I'm going to give you access to my…
Super-secret Google Ads Affiliate Marketing Bootcamp course.
This is the EXACT strategy I used to make $6,410 in GrooveFunnels affiliate commissions in less than 20 days.
No email list
Simple landing page
Newbie friendly
I run paid traffic campaigns for companies and have made my fair share of mistakes with Google Ads over the years.
With this blueprint, you can avoid all the mistakes I made and learn how to create buyer intent Google ads that convert
This course is WORTH $997 and I have personally spent weeks recording every video in to get straight to the point without you sitting there for hours.
This course is not limited to affiliate marketing, you can use the same strategy to generate leads or sales for any product or service in your business!
For the time being, I'm reserving this course to ONLY Groove Lifetime members and not making it publicly available.
This is worth more than 10 bonuses put together and is a priceless skill that you can apply to whichever online business you pursue.
You will always need traffic and Google traffic is one of the highest quality traffic.
I've now generated $10,896 in the last 30 days using this strategy!
Checkout the screenshots below of what you will get inside the members area:

BONUS 2 – DONE FOR YOU AFFILIATE BRIDGE PAGE TEMPLATES
These are my done-for-you Affiliate and bridge page templates you can use to build an email list or drive paid traffic to generate leads.
These are tested HIGH CONVERTING landing page templates that you can use for affiliate marketing and for your OWN online business.
I've tested these templates for small businesses, corporate b2b lead generation and small businesses. All you need to do is make a few changes, connect your email marketing providers and you're good to go!
BONUS 3 – LIST OF 130+ LIFETIME COMMISSION AFFILIATE PROGRAMS
Affiliate Marketing is one of the BEST online business models for new and advanced marketers.
passive income
scalable
no customer support
no expensive startup costs
no product inventory required
location independent
I've spent time researching, narrowing down and collating the best 130+ lifetime recurring affiliate programs you can promote to supplement your income.
BONUS 4
The exact Facebook ads that over 40 of the top internet marketers are running to generate over $1 million in sales.
Use the ads in this swipe file for market research and inspiration for your own ads or when writing copy.
Save hours of competitor spying, see the ad copy, offer, and hooks these guys are using to generate leads and sales.
BONUS 5
I've implemented ad campaigns in small and large niches – but the most profitable niches to start an online business in is:
health
wealth
relationships
In this list, you'll find specific examples of profitable sub-niches and hobbies you can go after that make money.
BONUS 6
Find yourself working all hours of the day but not getting any results?
There is only ONE of you and eventually you will need to outsource work.
So that you can focus on money making activities and don't get burnt out.
I walk you through my exact process I used to hire a kick-ass full time Virtual Assistant (VA)
Get my video training and messaging templates I used to hire a VA for a fraction of the cost.
More importantly, the process in filtering down applicants and hiring a high-performing VA.
NOTE: I will be adding even more UNANNOUNCED BONUSES & Training to the lifetime members who upgrade in the coming months.
How To Claim Your GrooveFunnels Bonuses
Please follow the below steps to ensure you can claim your bonuses through me.
Create your GrooveFunnels account 👉 through my link HER

E

.
Then login to your Groovefunnels dashboard and click the pink "Upgrade" button below.
Note: If you created a free account through someone else's link and would like to receive the bonuses mentioned here. Please reach out to me on first on my contact form.
GrooveFunnels Lifetime FAQs
Still Have Questions about GrooveFunnels Lifetime?
I'll do my best to answer any questions you may have
Here's are some other FAQs that people have asked:
When Will All The Groove Apps Be Available?
Some Groove apps that were previously scheduled for 2021 are being rolled out earlier 🙂
Here's the latest GrooveFunnels app rollout scheduled planned for 2020:
August 2020 Rollout
September 2020 Rollout
October 2020 Rollout
Q4 2020 Rollout
Who is the team behind GrooveDigital?
The founders of GrooveDigital is Mike Filsaime, John Cornetta, Mattijs Naus and Matt Serralta.
Mike Filsaime
Mike is best known for Butterfly marketing which is responsible for the many advanced marketing strategies you see today. He has generated over $125 million dollars in running successful software companies like WebinarJam, EverWebinar, and PayDotCom. He has a wealth of knowledge in internet marketing, e-commerce, and software development.
John Cornetta
John's e-Commerce stores generate over 6-figures per month and he's the man behind GrooveKart. His mission is to make GrooveKart easier to use and a more affordable solution to the e-commerce software.
Matt Serralta
Matt is the architect of GrooveKart, has more than 10 years of senior and executive-level management experience in executive operations, sales, P&L, and the field of e-commerce. Former COO of Prestashop as well as a former consultant for Office Depot. Matt Brings years of e-commerce marketing and development experience to GrooveKart.
Mattijs Naus
Matt is the CTO at GroovePages, a hardcore developer with extensive experience in website creators, pages builders, and apps development. He also has experience in running an agency and has a deep understanding of the digital marketing industry and the problems entrepreneurs and digital marketers face.
Is there a discount for GrooveFunnels?
What will GrooveFunnel's pricing be after the Lifetime Deal Ends?
After GrooveFunnels comes out of beta, it switches to a monthly pricing model. Pricing starts at $99/month on the SilverPlan and $199/month on the Gold Plan. The Platinum plan which gives you access to all the apps in the GrooveFunnels Lifetime offer starts at $299.
There was another price for GrooveFunnels before April 2020, has it changed?
No. Before Groove Digital offered GrooveSell and GroovePages for free during COVID-19, you could buy GroovePages for $497 and had the option to upgrade to the full suite of GrooveFunnels for 4 additional payments of $497. This still works out to be $1,988 but right now you could purchase GrooveFunnels lifetime for $1,397 when you pay in full.
What else do I need to purchase after GrooveFunnels?
Will I be able to import funnels and can I create sharefunnels?
Yes to both. To import funnels, just paste the URL into GroovePages and the builder will import all text, images and hyperlinks with minor configurations. To share funnels with other GrooveFunnel members, just send them the share link. Both these features will be available late 2020 or early 2021.
Will GrooveFunnels have split-testing?
Yes. After their launch, it will be available late August 2020.
What will GrooveFunnels integrate with?
GrooveFunnels will integrate with over 20 email platforms, at least 7 membership software platforms, Zapier, Funnelytics and many more.
Does GrooveFunnel have FREE SSL?
Yes. You create a free Cloudflare account and use their free SSL.
Is GrooveKart an app and is it Included in GrooveFunnels Lifetime offer?
GrooveKart is not an app, rather a standalone product and is an e-Commerce platform that competes with Shopify. Yes, it's included in the GrooveFunnels lifetime offer. You receive 1 store account. GrooveKart was one of the first products launched by GrooveDigital and currently sells for $99 per month.
Can I white label GroovePages?
No, unless you're a major influencer will mass reach.
Can I use GrooveFunnels for my digital Agency?
Not really. Even though GroovePages provides unlimited domains, it's not designed for agencies to resell funnel development on GroovePages or GrooveFunnels. I believe there will be agency pricing later on. If you're interested, it's best to purchase the GrooveFunnel's lifetime offer now as there will be bonus considerations for existing GrooveFunnel members who are agency owners.
Is GrooveFunnels Worth It?
If you're paying a fortune in marketing tools per month….
Tired of sticking-taping different services together and making them "talk" to each other….
Then the GrooveFunnels lifetime deal is incredible offer that you'll end up kicking yourself for not taking it up.
Where else can you get a lifetime sales funnel builder plus 18+ apps that's integrated in an all-in-one marketing platform at a massively discount price?
You literally run your ENTIRE business on GrooveFunnels without having to buy separate software and subscriptions.
And right now, you can get GrooveFunnels for LIFE and save on a lifetime of fees!
Over the coming months, GrooveFunnels will iron out most of the bugs and incorporate viral marketing features that you won't find on ClickFunnels.
Even though some apps are not available yet, I see GrooveFunnel as an investment that will pay itself off.
If you want to be part of revolutionary software that has great potential to be the number #1 sales and marketing funnel platform…
Plus save on lifetime costs, grab this steeply discount price now before it expires.
.
GrooveFunnels Review
GrooveFunnels is huge suite of apps that has the potential to supersede ClickFunnels. Looking at their development roadmap, 50% of the apps included in the GrooveFunnels lifetime package will be available later in 2020 and early 2021. The one-time price to receive GrooveFunnel for LIFE and save on future costs makes it's a compelling offer.
Operating System: Online SaaS
Application Category: Sales Funnel Builder, Website Creator, Affiliate Software, Webinar Software, Video Hosting, Membership Software, Sales Platform, Email Marketing, E-Commerce Platform, Membership Software, Survey & Quiz Software
> home page.