Looking for a brutally honest and up to date GrooveFunnels review without the fluff?
From a customer who uses the platform and knows its strengths and weaknesses?
I've got you covered.
If you're in a hurry, no need to skim.
Here are 6 key takeaways from this Groovefunnels review:
1. The FREE version is still available (for now).
2. GrooveFunnels is now called Groove – yep, just Groove because it's more than just a sales funnel builder.
3. Groove is suitable for most online business – If you need a website, want to generate leads and sales using a sales funnel, then Groove is for you. Here are just some businesses that will benefit from using Groove:
Beginners entrepreneurs and new online businesses:

ClickFunnels charges $297 per month to access their sales funnel builder and affiliate management suite. This is available in your free GrooveFunnels account.

Course creators and membership site owners:

Learning management systems like Thinkific, Kajabi, Teachable charge $49 to $197 per month depending on how many students you have.

Agency owners and digital marketing consultants:

Agency owners will benefit from unlimited website design, funnel creation and implementation services.

eCommerce owners, dropshipping and POD stores:

You can create unlimited eCommerce stores and import from Shopify in minutes. Save $79 per month and lower transaction fees.

Coaches and consultants:

Whether your a business, sales, health, marketing, life etc coach or consultant, you'll need funnels, membership hosting and automations software. Save $297 per month.

Affiliate and joint venture managers:

Groove has a robust sales and affiliate management system that allows you to create affiliate and manage affiliate programs. Save $1788 per year on similar software.
4. There are 19+ apps included in the lifetime deal:
8 apps are currently available and fully functional: This includes GroovePages, GrooveSell, GrooveAffiliate, GrooveMail, GrooveMember, GrooveVideo, GrooveBlog and GrooveKart.
12 apps are in development and scheduled to be released by the end of 2021.
5. The lifetime price is increasing – Groove plans to increase their platinum lifetime price from $1397 to $2497.
6. It is not an MLM or Scam – Groove has a two tier affiliate program which makes it look like a MLM (when it's not). It's a legitimate software company with over 100,000 paid lifetime users on the platform.
Sign up to your free account below to receive all the exclusive bonuses I created just for you.
Now that we got that out of the way, here's my full GrooveFunnels review with all the nitty gritty details.
I'm going to approach this Groovefunnels review mostly in terms of questions asked.
Since I post a tonne of helpful step-by-step Groovefunnels training on my Youtube channel, I've become a trusted advisor to many new Groovefunnels members.
Table of contents
You ready? Let's get into it.
What is GrooveFunnels?
Groovefunnels is all-in-one marketing and sales management platform with a suite of 19+ apps. These apps allow you to:
create branded websites with full menu navigation
build landing pages and sales funnels
build your email list with marketing automation
create unlimited shopping carts and custom order forms
upsells, downsells and order bumps
create affiliate programs for your products and services
manage your affiliates with promotional tools
create and host online courses and membership sites
host your videos privately
start and create a blog
create unlimited eCommerce Store and more!
It's massive and GroovePages (their sales funnels builder) is just ONE app within the GrooveFunnels platform.
Basically, the premise is that you can run your entire online business on GrooveFunnels.
Now here's the reality of this platform…
My GrooveFunnels Experience
The reality is that GrooveFunnels is still in BETA and bugs are to be expected as they develop their apps.
I've been using GrooveFunnels for 11 months now and instead of telling you it's all fantastic, let's be real here.
My first few months of using Groove funnels was frustrating and buggy as hell.
Back in May 2020, the three apps available at that time was GroovePages, GrooveSell and GrooveAffiliate.
What you see now in your free account for GroovePages, GrooveSell and GrooveAffiliate has been totally revamped with more features than what I had access to.
Back in May to August 2020, when a new app was released on the Groove platform – it was buggy and required continuous updates from Groove's developers.
For example, an app would freeze and you would have to rebuild what you created.
It was a pain in the back side and this went on for months until December 2020.
With constant feedback from paid users, things started shifting in a positive direction.
In February 2021, I started noticing less bugs across all apps.
ALL the apps started working smoothly and connecting to each other.
Sure, there were still bugs here and there but they were ironed out quickly.
For example, GrooveSell (their shopping cart and sales app) started integrating GrooveMember (their membership site app).
This meant that membership logins were now secure unlike previously.
Then Mike Filsaime, Groove's CEO announced at their State of Groovion 2021 presentation that:
From now on, they would only release an app when it's working and fully functional
Finally the Groove digital team started really listening to their customers and taking massive action!
They ironed out bugs more quickly, added more features and now the platform is better than ever.
Luckily for you, most of the major bugs have been ironed out in 2021 and they are scheduled for another MAJOR update.
Your Free GrooveFunnels account comes fully loaded with a excellent website creator, funnel builder, and powerful sales and affiliate management system.
Pros & Cons of GrooveFunnels
👍 Pros:
The free base plan has more than enough apps and features for you to start and grow an online business
GroovePages as a website and sales funnel builder is easy to use with their drag and drop editor
One-click integrations to connect your domains with SSL (you no longer need to use Cloudflare)
You can integrate with the most popular email marketing providers
The platinum lifetime is a incredible lifetime deal with access to all future apps and long term savings
GroovePages and GrooveBlog load extremely fast, SEO friendly and fully responsive
GrooveMember makes it easy to sell digital products and online courses in a secure members area
You earn 40% affiliate commission on the platinum lifetime plan for life
You earn 20% affiliate commission on the free base plan for life
By listing your products on Groove's marketplace (like ClickBank), you can leverage their half a million user base and attract an army of affiliates
Regular live digital marketing is really helpful for beginners
The community is HUGE! Every time someone posts a question, there's always a helpful answer
Bugs are ironed out quickly, with new feature requests added regularly.
👎 Cons:
It's in BETA, can be buggy every time they update an app however you can submit feature requests
Advanced features for some apps aren't available yet until the end of this year
If you are use to using ClickFunnels, Kartra or other funnel builders, its harder to import your existing funnels however there is a feature to import a URL of any web page as long as you can prove you own it
A LOT of people promoting GrooveFunnels affiliate program and hyping it up so it looks like a multi-level marketing scheme or scam (when it's not)
They have live sales funnels training but don't teach you how to drive traffic and sales
Support tickets are not answered quickly although they recently hired more staff to accommodate this
What is the GrooveFunnels Lifetime Deal?
The Lifetime deal is the platinum plan and gives you access to 19+ apps for life.
By investing in the platinum lifetime plan, you will be saving $17,506+ in marketing software subscription fees every year and you own the platform for LIFE.
If you're wondering how Groove are able to offer this once-in-a-lifetime deal, then watch this video from Mike Filsaime (CEO of Groove).
Here's a quick summary of the Platinum Lifetime Deal:
✔

Lifetime Access to 19+ Apps

✔

All GrooveFunnels Future Updates

✔

Lifetime Access to GrooveSell

✔

Lifetime Access to GrooveAffiliate

✔

Lifetime Access to GroovePages PRO

✔

Unlimited Sales Funnels

✔

Unlimited Custom Domains and Websites

✔

Unlimited Hosting and Bandwidth

✔

Lifetime Access to GrooveMail

✔

10,000 Email Contacts In GrooveMail

✔

Lifetime Access to GrooveMember

✔

Unlimited Membership Sites

✔

Lifetime Access to GrooveVideo

✔

Lifetime 100 GB of Video uploads

✔

Lifetime Access to Email Buyers

✔

Lifetime Access to Email Affiliates

✔

Lifetime GrooveKart for eCommerce

✔

Unlimited GrooveKart Stores

✔

GrooveWebinars Live Webinars

✔

GrooveWebinars Automated Webinars

✔

GroovePages Shopify App

✔

Affiliate Program Upgrade

✔

40% affiliate commissions on referrals for LIFE

✔

10% affiliate commissions on 2nd Tier referrals for LIFE

✔

Lifetime Free VIP Tickets to GrooveKon™ conference

✔

Lifetime Free LIVE IN-PERSON workshops throughout the year
That's a lot to digest, so here's a summary of the pros and cons of each app in the lifetime plan:
GroovePages™
Website, landing page and sales funnel builder software
👍 Pros:
✔ Unlimited websites and sales funnels
✔ Unlimited custom domains
✔ Unlimited traffic and bandwidth
✔ Easy to use, drag and drop editor
✔ Unlimited sharefunnels
✔ Included in lifetime deal
👎 Cons:
✘ The responsive editor and certain elements can be buggy at this stage however they will be updating the editor again in late April 2021.
GroovePages Conclusion:
Lately it's taking me longer to edit my pages in GroovePages due to their new responsive editor.
Groove has advised everyone that this will be addressed in their next update which is scheduled in late April 2021.
Having said that, it's a good page builder and free for anyone wishing to get started.
The ability to create unlimited websites and funnels on the lifetime plan makes it a good long term investment as pricing for comparable page builders start at $197/month and more.
That's $2364 / year and they don't come with professionally designed website and funnel templates.
GroovePages alone as a sales funnel builder is worth the price of GrooveFunnels lifetime deal.
Although when they are rolling out new features on the app, certain elements and the responsive editor can be buggy.
If you're used to using ClickFunnels and Kartra, then you'll be familiar with the elements and the drag and drop editor.
I would say sign up to the free account, test it and in time you will see new improvements.
GrooveSell™
Powerful shopping cart and sales management platform
👍 Pros:
✔ Unlimited shopping carts and checkouts
✔ Create upsells, downsells and order bumps
✔ You can customize oder form with your own brand colors
✔ Create affiliate programs and social proof of purchases
✔ Accommodates multiple currencies
✔ Export customer contacts and emails in csv file
✔ Included in lifetime deal
👎 Cons:
✘ Two step order forms is not available but coming soon
GrooveSell Conclusion:
Can't complain much with GrooveSell. It's a great alternative to SamCart, ThriveCart and other shopping cart platforms.
GrooveSell allows for unlimited products and funnels with the ability to list your products in Groove's marketplace.
This also means you can create unlimited affiliate program for all the products you create within GrooveSell and attract affiliates through their marketplace.
GrooveSell is available, fully functional and best of all, your free account comes with the full edition of GrooveSell and lifetime upgrades.
GrooveAffiliate™
Cloud Based Affiliate Management Software
👍 Pros:
✔ Unlimited affiliate programs
✔ Create affiliate promo tools
✔ Affiliate Leaderboards
✔ Assign specific commission rates for top affiliates
✔ Affiliate tracking and conversions
✔ Included in lifetime deal
👎 Cons:
✘ Reporting interface can do be improved
GrooveAffiliate Conclusion:
GrooveAffiliate integrates with your GrooveSell products and GrooveMember sites.
Want to create an affiliate program and leverage an army of affiliates in GrooveFunnels?
List your products in their market base and leverage their 500,000 user base and get sales automatically.
There are advanced features that allow your affiliates to issue bonus and track their conversions to drop their conversion codes if you wish.
GrooveMail™
Email Marketing & Automation Platform
👍 Pros:
✔ Up to 10,000 email contacts
✔ Add tags and segment your email list
✔ Marketing automations to add memberships
✔ Email broadcasts, autoresponders and sequences
✔ Included in lifetime deal
👎 Cons:
✘ Their automations feature was buggy in the first few month however it's improved since then.
GrooveMail Conclusion:
GrooveMail is modeled after ActiveCampaign with 10,000 email contacts.
To have 10,000 contacts /month on ActiveCampaign, you're looking at $599 per month!
You'll be able to create lists, segment by tags and create sequences or automation based on your desired triggers.
GrooveMail's automation feature is awesome because it integrates with GrooveSell and GrooveMember.
So if someone purchases a product in GrooveSell, you can create an automation to send people a username and password automatically.
They have plans to include SMS contacts by the end of 2021.
GrooveMember™
Online Course Hosting & Membership Platform
👍 Pros:
✔ Create unlimited memberships sites
✔ Create multiple tiers with different price points
✔ Assign different access levels
✔ Drip content time-release schedule
✔ Course portal with one login for multiple courses
✔ GrooveMember is now mobile responsive!
✔ Included in lifetime deal
👎 Cons:
✘ Lacks membership themes but coming soon
GrooveMember Conclusion:
UPDATE 6th April 2021 – GrooveMember is that it's now mobile responsive!
What gets me excited with GrooveMember is that you can subscribe or unsubscribe users to different membership tiers with GrooveSell and GrooveAutomation.
Learning management systems like Thinkific, Kajabi, Teachable charge $49 to $197 per month depending on the number of students and features integrations.
This all adds up and can save you thousands per year plus you can create unlimited membership sites!
I've created a detailed GrooveMember tutorial on my Youtube channel to help you get started.
In fact, in your free groovefunnels account – you'll get access to my bonus GrooveFunnels quick-start training that covers how to set up GrooveMember for an online course step-by-step.
GrooveVideo™
Private Video Hosting & Video Analytics
👍 Pros:
✔ Upload, host and track private videos
✔ Add opt-in forms to unlock a video
✔ Add CTA banners on your video
✔ Analytics of impressions, unique views, total finished and watch time.
✔ 100GB of video content for life
👎 Cons:
✘ Not as many advanced video features
GrooveVideo Conclusion:
GrooveVideo has improved significantly since it's release and you can embed your videos on to any page (not just GroovePages or GrooveMember).
You can now change the video control colors to your own brand color instead of using Groove's pink color.
What I don't like about GrooveVideo is their limited analytics and the ability to add automations to your email to remind people to watch the video.
However GrooveVideo is still in BETA and there will be new feature where you can trigger actions based on viewer behaviors, such as viewing all or part of a video.
Other than that, you're saving 100GB in video hosting on the lifetime plan instead of using Wistia or Vimeo.
GrooveKart™
All-In-One eCommerce Platform
👍 Pros:
✔ Import and migrate your Shopify store in minutes
✔ Caters for print on demand and dropshipping stores
✔ Add CTA banners on your video
✔ In-built apps like quizzes, product reviews, spin wheels, live chat, coupons and more for free
✔ Integrates with the most popular payment gateways
✔ Unlimited GrooveKart stores
👎 Cons:
✘ Bigger learning curve to using GrooveKart than Shopify
GrooveKart Conclusion:
Having used Shopify, I find that there is a bigger learning curve to using GrooveKart.
Since GrooveKart has so many features and customizations, it's not as newbie friendly as Shopify.
However those who have strong experienced in dropshipping and print on demand stores will appreciate the ability to create a customized product page for higher conversions.
Plus they have in-built apps that you would normally have to purchase separately on Shopify so you're saving more money in terms of monthly app subscriptions.
I would use GrooveKart to test and validate new products quickly without having to modify your existing eCommerce store.
GrooveKart has gone through several iterations and if you invest in the platform now, you'll benefit from future updates.
GrooveBlog™
Start and Launch Your Own Blog
👍 Pros:
✔ Unlimited GrooveBlogs
✔ Loads extremely fast
✔ Easy to use and create blog posts
✔ Included in Lifetime deal
👎 Cons:
✘ Limited SEO features
GrooveBlog Conclusion:
GrooveBlog was released in February 2021 – On the lifetime deal, you can create unlimited blogs.
It's a light weight and fast loading blogging platform that is ideal for those who do light blogging at this stage. Very clean and user friendly with the ability to add your own custom domain name.
If your website is on WordPress with high domain authority, rely on content marketing and have pages ranking in Google, then keep using WordPress (this is what I do as I prefer more analytics and SEO features).
I would use GrooveBlog more as a web 2.0 content syndication or to test a niche first and wait until they add more SEO features.
On the plus side, you can save $150/year on WordPress hosting.
GrooveProof™ – Social Proof
Similar to Provely's social proof platform.
This allows you to create customizable pop-up notifications on your landing and sales pages.
Use these proof pop-ups to encouraging visitors to follow the actions of your those who have gone before them.
Customize heading text, title colors and background colors.
Display visitor names, location and Gravatar icons in your pop-up.
Social proof pop-ups can increase conversion rates by 250%.

AVAILABLE NOW

in GrooveSell
Chatmatic™ – Messenger Marketing
The newest addition to the Groovefunnels platform.
Up to 250 messenger subscribers
Unlimited Messenger Pages
Access to Agency Accelerator
Pre-built Messenger Templates
Build your messenger subscriber list
AVAILABLE NOW
GrooveWebinars Automated™ (coming soon)
Similar to StealthWebinar or EverWebinar
Schedule automated webinars on a recurring basis or specific dates
Turn your live webinar into an evergreen webinar with ONE click
Get stats on chats, watch time and drop-offs
Full pre-design webinar landing page templates
Integrates with GrooveMail for webinar reminders and the entire GrooveFunnels system

Coming in 30TH APRIL 2021.
GrooveWebinars Live™ (coming soon)
Similar to WebinarJam and GotoWebinar but better
Viewing options: Show your screen, or camera, or both!
Handle multiple presenters
Video or audio Q&A for viewers
Full pre-design webinar landing page templates
Secure rooms so no one else can access it without registering.
Integrates with GrooveMail for webinar reminders and the entire GrooveFunnels system
Coming in 15TH JULY 2021.
GrooveWebinars Streaming™ (coming soon)
Similar to Streamyard's live streaming studio in your browser.
Stream to multiple platforms simultaneously works with Facebook, YouTube and LinkedIn
Show viewer comments on screen, answer their questions and connect to your audience
Add call to actions within your broadcast
Brand your live stream with your own logo and brand colors
No downloads required, stream right in your browser

Coming in 30TH SEPTEMBER 2021.
GrooveDesk™ (coming soon)
This is the built-in help desk like Zendesk with a robust ticketing system.
GrooveDesk will be integrated into GrooveSell so you can access a customer's full profile, transaction history, and billing actions (refunds, cancellations, discount coupons, etc.) right from within the help desk ticket.
Embed your frequently-used replies with a click of your mouse inside of GrooveDesk.
GrooveDesk stores every conversation in the cloud so you can retrieve and download them at any time.
Email integration with GrooveMail
Coming in 30TH JUNE 2021
GrooveCalendar™ (coming soon)
GrooveCalendars allows you to schedule meetings and sell consultations
Real-time booking management so, if a customer books a particular time slot, it will block it for all other user
Set a series of events or recurring appointments with email and text reminders.
If you are a consultant offering one-to-one sessions with your customers, then add you can integrate with GrooveSell and charge for payments.
Create a calendar for every business model – consultant model, recurring class model, gym subscription model, and live event model
GrooveCalendar sends instant updates to your Google Calendar so it's always in sync
Get reminder notifications for registration confirmation, pre and post-event notifications, cancellations and rescheduling
Block out specific dates that you don't want to work because who wants to work on public holidsays
Integrates with GrooveMail so you can set up automated follow-up email sequences
Coming in 2ND AUGUST 2021.
GrooveSurvey & GrooveQuiz™ (coming soon)
Create engaging surveys with multiple choice options to identify your next product, service, or content topic to focus on
Create fun interactive quizzes for lead generation or customer acquisition.
All responses become part of your lead record and integrated with GrooveMail for email followup
Build your email list or customer database with surveys and quizzes.

Coming this 1ST JULY 2021.
All 20+ apps and future developments are included in the GrooveFunnels Platinum Lifetime Offer
You basically own the GrooveFunnels platform and become a backer of the project.
Now let's talk pricing and payment options.
GrooveFunnels Pricing & Payment Options
So, how much does GrooveFunnels cost?
As of 1st March 2021, there are only 2 payment options for their lifetime packages:
5 monthly payments of $497
OR one-time payment of $1397
Both payment options will give you lifetime access to all current apps, future apps and feature upgrades.
GrooveFunnels Pricing Increase 2021
GrooveFunnels plans to increase the platinum lifetime price from $1397 to $2497.
The price increase is planned in three increments. Which means the price does not jump to $2497 immediately.
There is no set date on the price increase however looking at their promotional dates, the next price increase will most likely occur in early April 2021.
GrooveFunnels Software Pricing Comparison
Here's a pricing comparison table of GrooveFunnels apps vs with similar software providers.
The below figures are yearly savings of comparable software subscriptions.
I usually stay away from offers that include so many apps.
They're usually inferior versions of leading competitors.
The key difference in here is Mike Filsaime's reputation of developing quality software.
Plus these are the apps and tools that you will eventually need to run your online business.
It's my hope that they develop robust apps and not half baked ones – only time will tell.
Why I Upgraded To GrooveFunnels Lifetime
It's should be pretty obvious by now on why I upgraded.
To save on monthly and yearly subscriptions of various marketing software and tools.
I could have signed up to the free plan and just use the their free sales funnel builder, sales and affiliate management software.
But GrooveMail's 10,000 email contacts and unlimited GrooveMember sites sealed the deal for me.
I nearly made the jump over to Kartra until I stumbled upon GrooveFunnels.
And was pleasantly surprise to find that the ex co-founder of Kartra…
Mike Filsaime is now the CEO and co-founder of GrooveFunnels.
If you don't know who Mike is, the guy has been in software development since 2006.
He's also a brilliant marketer who pioneered viral marketing.
Here's a screenshot of my GrooveFunnels Platinum Lifetime purchase receipt.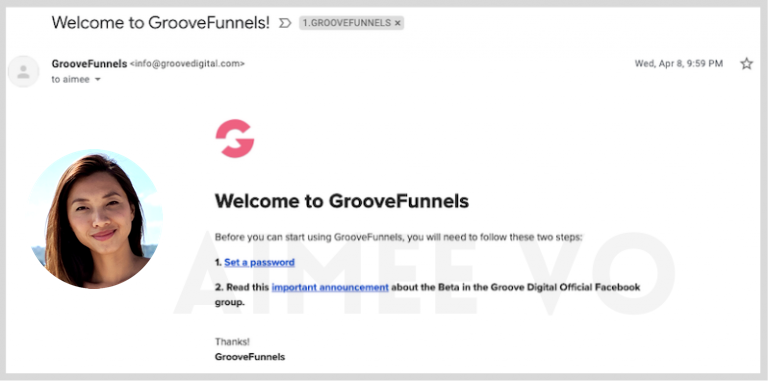 When Does GrooveFunnels Lifetime Expire?
Mike Filsaime, the CEO of Groove said they they won't be out of beta until all the apps are released.
I'm pretty certain that by early Jan 2022, they will go out of beta and will switch to monthly pricing.
There will be several price increases in the lifetime plan before they switch to monthly.
When they do switch to monthly subscription, the platinum plan will be $299/month.
Is GrooveFunnels Worth It?
Given that GrooveFunnels is in BETA, it's worth if if you view the lifetime deal as a long term investment.
This is the reason why they're offering 19+ apps for a low one-time payment.
Nine months will fly by fast and before you know it, it's January 2022 and all 19 apps have been developed.
Where else can you get a lifetime sales funnel builder plus 19+ apps that's integrated in an all-in-one marketing platform at a massively discount price?
You can literally run your ENTIRE business on GrooveFunnels without having to buy separate software and subscriptions.
Over the coming months, GrooveFunnels will release all their apps and incorporate viral marketing features that you won't find on ClickFunnels.
GrooveFunnels Lifetime FAQs
When Will All The Groove Apps Be Available?
All the apps are rolled out by 2021 as they transition out of BETA. The date for each app is mentioned above.
Who is the team behind GrooveDigital?
The founders of GrooveDigital is Mike Filsaime, John Cornetta, Mattijs Naus and Matt Serralta.
Mike Filsaime
Mike is best known for Butterfly marketing which is responsible for the many advanced marketing strategies you see today. He has generated over $125 million dollars in running successful software companies like WebinarJam, EverWebinar, and PayDotCom. He has a wealth of knowledge in internet marketing, e-commerce, and software development.
John Cornetta
John's e-Commerce stores generate over 6-figures per month and he's the man behind GrooveKart. His mission is to make GrooveKart easier to use and a more affordable solution to the e-commerce software.
Matt Serralta
Matt is the architect of GrooveKart, has more than 10 years of senior and executive-level management experience in executive operations, sales, P&L, and the field of e-commerce. Former COO of Prestashop as well as a former consultant for Office Depot. Matt Brings years of e-commerce marketing and development experience to GrooveKart.
Mattijs Naus
Matt is the CTO at GroovePages, a hardcore developer with extensive experience in website creators, pages builders, and apps development. He also has experience in running an agency and has a deep understanding of the digital marketing industry and the problems entrepreneurs and digital marketers face.
Is there a discount for GrooveFunnels?
What will GrooveFunnel's pricing be after the Lifetime Deal Ends?
After GrooveFunnels comes out of beta, it switches to a monthly pricing model. Pricing starts at $99/month on the SilverPlan and $199/month on the Gold Plan. The Platinum plan which gives you access to all the apps in the GrooveFunnels Lifetime offer starts at $299.
What else do I need to purchase after GrooveFunnels?
Will I be able to import funnels and can I create sharefunnels?
Yes to both and it's now availabe. To import funnels, just paste the URL into GroovePages and the builder will import all text, images and hyperlinks with minor configurations. To share funnels with other GrooveFunnel members, just send them the share link.
Will GrooveFunnels have split-testing?
Yes. After their launch, it will be available late August 2021.
What will GrooveFunnels integrate with?
GrooveFunnels will integrate with over 20 email platforms, at least 7 membership software platforms, Zapier, Funnelytics and many more.
Does GrooveFunnel have FREE SSL?
Yes, GroovePages has a one-click integration with Cloudflare and everything is managed within GrooveFunnels
Can I white label GroovePages?
No, unless you're a major influencer will mass reach.
Can I use GrooveFunnels for my digital Agency?
There will be an agency feature released later in 2021 with team and staff logins.
Thanks for reading my GrooveFunnels review and be sure to check out my bonuses below.
.
My Brutally Honest GrooveFunnels Review After 10 Months Use
GrooveFunnels is more than just a page and sales funnel builder. Their lifetime plan has 19+ apps and has the potential to supersede ClickFunnels. They're looking to go out of beta in Jan 2022. 50% of their apps are currently available, with the remaining in development. There are upsides and downsides with using a beta software however as an early adopter, you can be the first mover and save a lifetime of fees.
Operating System: GrooveFunnels
Application Category: Sales Funnel Builder, Website Creator, Affiliate Management Software, Webinar Software, Video Hosting, Membership Software, Sales Platform, Email Marketing, E-Commerce Platform, Membership Software, Survey & Quiz Software
GrooveFunnels Review (April 2021) - Price Increase & Bonuses
GrooveFunnels Review April 2021 Update - The reality and my brutally honest review of Groove after 11 months, pros, cons, lifetime pricing and is it worth it?